If you are a caregiver, you may recommend someone else to work as a caregiver in a hospital or someone who is looking for a caregiver. In this case, you will need to make a caregiver recommendation letter. With this kind of letter, the institution or that person will consider him/her more. Considering the importance of this letter, we will discuss it further here.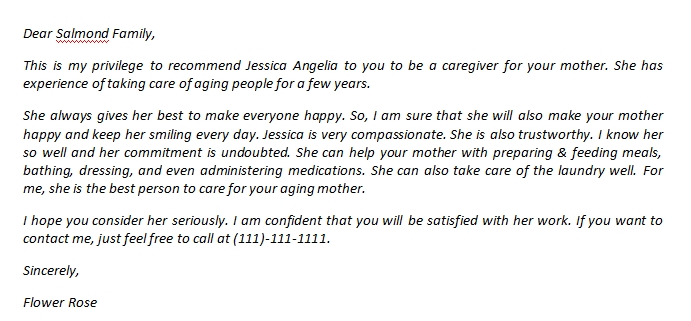 How to Make a Caregiver Recommendation Letter
Even though this kind of letter is not a must, it is very important. So, let's see the following step by step how to create it:
You just need to pick your preferred template first. Make sure that the template really suits your needs.
Then, you are allowed to customize the template. In fact, our templates are not only downloadable but also customizable and printable.
Even though our template comes with the proper format, you are still required to fulfill it to meet your needs.
You can start with a letterhead, continued with an introduction & body, and end with a conclusion & signature.
This letter must be printed and sent soon. Make sure that it is sent to the right recipient.
Tips for Writing a Caregiver Recommendation Letter
This recommendation letter belongs to a formal document. So, it must be written carefully. The following tips may help you a lot:
It will be better if you create this letter using our template. So, your task will be much easier. It will also save a lot of time and effort.
You also have to ensure that there is no error in grammar and misspelling. So, you may need to proofread it.
To make it understandable, you must use clear and short sentences. Ambiguous words must be avoided.
After you print the letter, you should send it as soon as possible before anyone else fulfills the job position.
Caregiver Recommendation Letter Example
If you need an example of a caregiver recommendation letter, you can see below:
Dear Salmond Family,
This is my privilege to recommend Jessica Angelia to you to be a caregiver for your mother. She has experience of taking care of aging people for a few years.
She always gives her best to make everyone happy. So, I am sure that she will also make your mother happy and keep her smiling every day. Jessica is very compassionate. She is also trustworthy. I know her so well and her commitment is undoubted. She can help your mother with preparing & feeding meals, bathing, dressing, and even administering medications. She can also take care of the laundry well. For me, she is the best person to care for your aging mother.
I hope you consider her seriously. I am confident that you will be satisfied with her work. If you want to contact me, just feel free to call at (111)-111-1111.
Sincerely,
Flower Rose
That is all the sample and guidelines on how to create a caregiver recommendation letter correctly. Just feel free to use our guidelines and sample for your reference.
Similar Posts: