The dental receptionist field needs a person with good administrative skills, a great understanding of medical terms, & excellent customer service skills. If you meet these requirements, you can apply for the job. In this case, you need to create a dental receptionist cover letter carefully.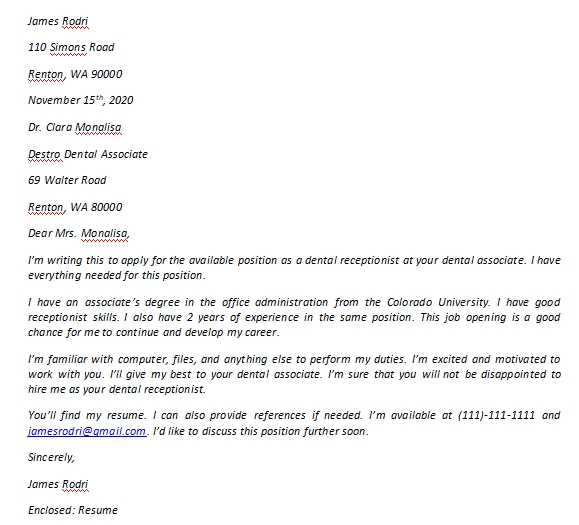 How to Make a Dental Receptionist Cover Letter
Writing such a letter can be done with the following step by step:
The first step to do is to address the cover letter to the hiring employer.
To begin the introductory paragraph, you will have to directly express your interest in the opening position.
After that, you are required to describe yourself by explaining your educational background, training, working experiences, skills, and abilities that relate to the position you are applying for.
For the next step, you should state that you attach your resume and other supporting documents if any.
In the closing paragraph, you must request a meeting and include your contact information.
Last but not least, you need to end the letter with your signature and name.
Tips for Creating a Dental Receptionist Cover Letter
A cover letter must be created carefully so that the hiring employer is impressed and you will be invited for an interview. Here are some useful tips to consider when writing such a cover letter.
This cover letter has to follow the proper format.
Besides that, ensure that this cover letter uses good grammar & spelling.
Then, you have to keep it brief, concise, polite, professional, and formal.
In addition, you must attach supporting documents to make it more convincing.
One more, you are required to proofread it before sending the letter.
Dental Receptionist Cover Letter Sample
Below is a sample you can use for your reference. You can change the details in the letter to match your needs.
James Rodri
110 Simons Road
Renton, WA 90000
November 15th, 2020
Dr. Clara Monalisa
Destro Dental Associate
69 Walter Road
Renton, WA 80000
Dear Mrs. Monalisa,
I'm writing this to apply for the available position as a dental receptionist at your dental associate. I have everything needed for this position.
I have an associate's degree in the office administration from the Colorado University. I have good receptionist skills. I also have 2 years of experience in the same position. This job opening is a good chance for me to continue and develop my career.
I'm familiar with computer, files, and anything else to perform my duties. I'm excited and motivated to work with you. I'll give my best to your dental associate. I'm sure that you will not be disappointed to hire me as your dental receptionist.
You'll find my resume. I can also provide references if needed. I'm available at (111)-111-1111 and jamesrodri@gmail.com. I'd like to discuss this position further soon.
Sincerely,
James Rodri
Enclosed: Resume
That is all about a dental receptionist cover letter. After sending this cover letter, you have to wait for the invitation for a meeting or interview. You must also prepare yourself when the hiring manager invites you.
Similar Posts: