If you want to apply for a job as a dishwasher, the first step you will need to do after finding a job opening is to write a cover letter. Writing a dishwasher cover letter is very challenging. So, you have to pay attention to the following steps, tips, and sample.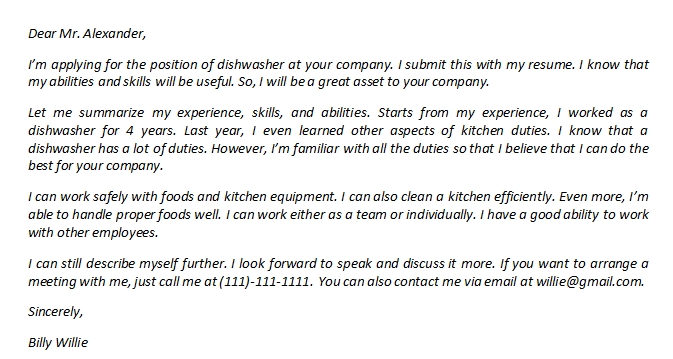 How to Make a Dishwasher Cover Letter
To write this kind of letter, there are a few steps to do:
Firstly, you need to politely greet the hiring employer.
Secondly, you should directly state in the first paragraph that you are interested in the dishwasher position.
Thirdly, you have to summarize your previous work experiences that relate to the position you are applying for.
After that, it is also important to describe your relevant skills and abilities.
Then, you have to convince the hiring employer that you are the best candidate to be hired.
In the last paragraph, you should request a meeting and include your contact information.
Your signature and name should end this cover letter.
Tips for Writing a Dishwasher Cover Letter
If you want to make this cover letter impressive, the following tips should be considered:
The format has to be followed when writing such a cover letter.
This letter should also use good spelling and grammar.
Besides that, you have to keep it simple, concise, and easy to understand.
To make it convincing, you are also required to attach your resume or any other supporting document.
In addition, your strengths must be summarized in detail.
Proofreading is very important to avoid errors or mistakes.
Dishwasher Cover Letter Sample
Here, we provide you an example of a cover letter for you who are applying for a dishwasher position:
Dear Mr. Alexander,
I'm applying for the position of dishwasher at your company. I submit this with my resume. I know that my abilities and skills will be useful. So, I will be a great asset to your company.
Let me summarize my experience, skills, and abilities. Starts from my experience, I worked as a dishwasher for 4 years. Last year, I even learned other aspects of kitchen duties. I know that a dishwasher has a lot of duties. However, I'm familiar with all the duties so that I believe that I can do the best for your company.
I can work safely with foods and kitchen equipment. I can also clean a kitchen efficiently. Even more, I'm able to handle proper foods well. I can work either as a team or individually. I have a good ability to work with other employees.
I can still describe myself further. I look forward to speak and discuss it more. If you want to arrange a meeting with me, just call me at (111)-111-1111. You can also contact me via email at willie@gmail.com.
Sincerely,
Billy Willie
That is all about a dishwasher cover letter. This cover letter has its own format. Make sure that you follow it properly. Hopefully, the sample above will help you a lot.
Similar Posts: