A fellowship recommendation letter is meant for an individual, in different fields, who has completed a certain level of training & education and wishes to embark on a program of additional studies in a certain specialty. It usually comes with monetary grants covering costs related to the one's study course.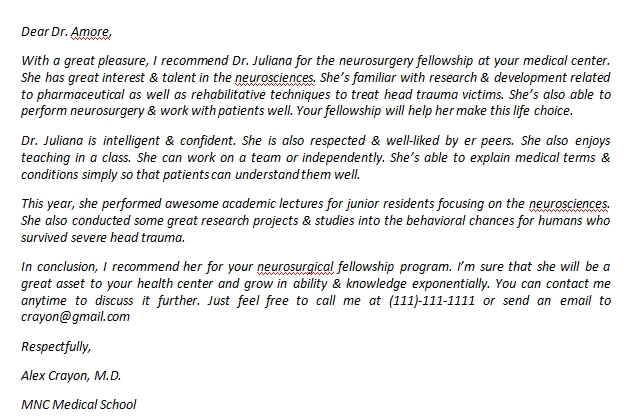 How to Make a Fellowship Recommendation Letter
Writing this kind of letter can be done with the following steps:
Firstly, you have to address this letter to the manager of the organization that provides the fellowship.
After that, you should directly state your recommendation in the first paragraph.
Then, you should explain why he/she needs to be given with the fellowship.
Next, you need to make a concluding paragraph stating that he/she will be a great asset for the organization.
Still in the last paragraph, you are also required to include your contact information.
Finally, you can end the letter with your signature and name.
Tips for Writing a Fellowship Recommendation Letter
There are a few tips to follow when writing this kind of letter:
This letter should use a proper format.
Besides that, you also have to pay attention to grammar & spelling mistakes.
Then, it is very important to keep it simple and concise.
In addition, you cannot use informal and ambiguous words.
Moreover, you have to convince the fellowship provider that you recommend the right person.
Furthermore, you still need to proofread it once again before sending the letter.
Fellowship Recommendation Letter Sample
In this article, we provide you an example you can use for your reference in writing such a letter. Here is the sample:
Dear Dr. Amore,
With a great pleasure, I recommend Dr. Juliana for the neurosurgery fellowship at your medical center. She has great interest & talent in the neurosciences. She's familiar with research & development related to pharmaceutical as well as rehabilitative techniques to treat head trauma victims. She's also able to perform neurosurgery & work with patients well. Your fellowship will help her make this life choice.
Dr. Juliana is intelligent & confident. She is also respected & well-liked by er peers. She also enjoys teaching in a class. She can work on a team or independently. She's able to explain medical terms & conditions simply so that patients can understand them well.
This year, she performed awesome academic lectures for junior residents focusing on the neurosciences. She also conducted some great research projects & studies into the behavioral chances for humans who survived severe head trauma.
In conclusion, I recommend her for your neurosurgical fellowship program. I'm sure that she will be a great asset to your health center and grow in ability & knowledge exponentially. You can contact me anytime to discuss it further. Just feel free to call me at (111)-111-1111 or send an email to crayon@gmail.com
Respectfully,
Alex Crayon, M.D.
MNC Medical School
That is all about a fellowship recommendation letter. If you want to create such a letter, just feel free to follow the sample above.
Similar Posts: