When there is a situation where an employee believes that he/she has been terminated wrongfully from his/her job, it is time to create a termination appeal letter. It must be written professionally. You cannot write it with emotions. You must also state the facts & events leading to the termination.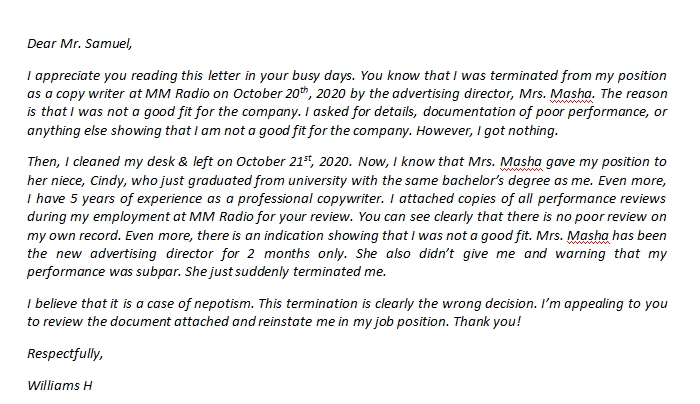 How to Make a Termination Appeal Letter
It is very important to know how to write such a letter. There are a few steps you will need to follow in writing this kind of letter.
Firstly, you have to include the date the employee begins working with the company and the date he/she is terminated.
Secondly, you should also write the name & title of the one who terminates the employee.
Then, you must explain the reason he/she is terminated and the reasons why he/she believes that the termination is wrong or unfair.
Next, you need to address it to an HR or manager who can negate the termination & rehire him/her.
Tips for Creating a Termination Appeal Letter
There are some tips you will need to consider when you are writing such a letter.
First, you should follow the rules and format.
Besides that, you have to use good grammar.
Then, it is also important to avoid ambiguous sentences.
In addition, you need to keep it simple, concise, and convincing.
One more, makes sure that you address the letter to the right person.
Termination Appeal Letter Sample
Here, we provide you an example of a termination appeal letter as you can see below:
Dear Mr. Samuel,
I appreciate you reading this letter in your busy days. You know that I was terminated from my position as a copy writer at MM Radio on October 20th, 2020 by the advertising director, Mrs. Masha. The reason is that I was not a good fit for the company. I asked for details, documentation of poor performance, or anything else showing that I am not a good fit for the company. However, I got nothing.
Then, I cleaned my desk & left on October 21st, 2020. Now, I know that Mrs. Masha gave my position to her niece, Cindy, who just graduated from university with the same bachelor's degree as me. Even more, I have 5 years of experience as a professional copywriter. I attached copies of all performance reviews during my employment at MM Radio for your review. You can see clearly that there is no poor review on my own record. Even more, there is an indication showing that I was not a good fit. Mrs. Masha has been the new advertising director for 2 months only. She also didn't give me and warning that my performance was subpar. She just suddenly terminated me.
I believe that it is a case of nepotism. This termination is clearly the wrong decision. I'm appealing to you to review the document attached and reinstate me in my job position. Thank you!
Respectfully,
Williams H
That is all about a termination appeal letter. If you want to write your own termination letter, you can follow the format above. However, you have to prepare the facts and evidence that support your appeal first.
Similar Posts: