There are many required qualifications to be a Human Resource Specialist. If you meet all the requirements, you can apply for that position. The best way to create the first impression from the hiring employer is by writing & sending a Human Resource Specialist cover letter.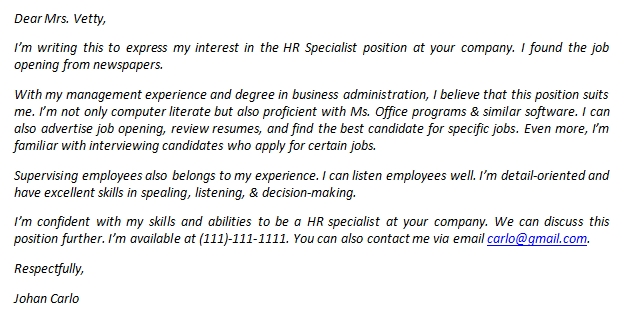 What Is the Role of a HR Specialist?
A HR Specialist is responsible for recruiting, supporting, training, and placing employees of a company. A HRD may have some specialists depending on the size of the company. It aims to perform specific duties such as overseeing performance review as well as maintaining employee records.
Should You Address a Cover Letter to Human Resources?
To address a cover letter to HR, you should use a generic salutation like "Dear HR professional", "Dear Recruiting Manager", or "Dear Hiring Manager". Alternatively, you can write greetings. It sounds informal. However, it is allowed as it is polite.
How to Write a Human Resource Specialist Cover Letter
How to write a cover letter for a HR Specialist can be done with the following steps:
First of all, you have to greet the hiring manager politely.
After that, directly state your interest in the HR Specialist position in the first paragraph.
Then, describe your skills and abilities that are relevant to the position.
Next, don't forget to tell about your education, training, and experience if any.
Finally, you should close the letter by saying thanks for his/her consideration.
Put your signature in the last part.
Tips for Writing a Human Resource Specialist Cover Letter
The following tips will be useful for you who want to write such a cover letter:
It must be well-formatted.
The grammar & spelling must be good.
It should be clear, simple, and understandable.
The writing style has to be formal and polite.
Proofreading is needed.
Human Resource Specialist Cover Letter Sample
Now, let's see the following sample for your reference:
Dear Mrs. Vetty,
I'm writing this to express my interest in the HR Specialist position at your company. I found the job opening from newspapers.
With my management experience and degree in business administration, I believe that this position suits me. I'm not only computer literate but also proficient with Ms. Office programs & similar software. I can also advertise job opening, review resumes, and find the best candidate for specific jobs. Even more, I'm familiar with interviewing candidates who apply for certain jobs.
Supervising employees also belongs to my experience. I can listen employees well. I'm detail-oriented and have excellent skills in spealing, listening, & decision-making.
I'm confident with my skills and abilities to be a HR specialist at your company. We can discuss this position further. I'm available at (111)-111-1111. You can also contact me via email carlo@gmail.com.
Respectfully,
Johan Carlo
That is all about a Human Resource Specialist cover letter. If you want to apply for a similar job, you can use and follow the sample above to write your own cover letter. Make sure that you only write the truth.
Similar Posts: