An account executive is a person who is responsible for ensuring the clients' needs are met according to the agreement. If you are interested in this position, you need to write an account executive cover letter to apply for the job. In this article, we will discuss it further!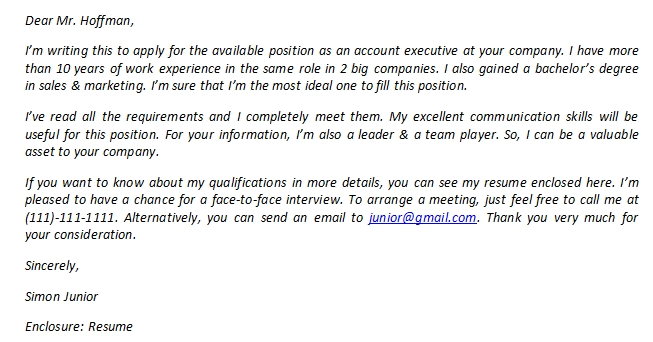 What an Account Executive Does?
An account executive can also be called an account handler. In this position, you act as a link between an advertising agency & its clients. Here, you will also have to understand the goals of your clients. Then, you are responsible for organizing the agencies administrative & creative staff to assist them produces effective campaigns.
Is an Account Executive a Good Career?
Account executives may have different salaries. They can earn around 63,000 dollars per year with extra compensation of 31,000 dollars. Their salaries depend on the industry & location. It is also very important to know what skills are required to be an account executive.
How to Make an Account Executive Cover Letter
To write such a cover letter, let's follow these steps:
Greet the hiring employer first.
Start with an introductory paragraph by directly stating your interest in the opening job.
Explain the reasons why you are the best candidate by describing your skills, experience, etc.
In the closing paragraph, you should include your contact information to let the hiring employer invite you for an interview.
End the cover letter with your signature.
Tips to Make an Account Executive Cover Letter
To create an impressive cover letter, you should consider the following tips:
Write it in the proper format.
Always use good grammar.
Pay attention to spelling and diction.
Keep the cover letter brief, concise, formal, and easy to understand.
Don't forget to proofread it.
Account Executive Cover Letter Sample
Now, pay attention to the example below:
Dear Mr. Hoffman,
I'm writing this to apply for the available position as an account executive at your company. I have more than 10 years of work experience in the same role in 2 big companies. I also gained a bachelor's degree in sales & marketing. I'm sure that I'm the most ideal one to fill this position.
I've read all the requirements and I completely meet them. My excellent communication skills will be useful for this position. For your information, I'm also a leader & a team player. So, I can be a valuable asset to your company.
If you want to know about my qualifications in more details, you can see my resume enclosed here. I'm pleased to have a chance for a face-to-face interview. To arrange a meeting, just feel free to call me at (111)-111-1111. Alternatively, you can send an email to junior@gmail.com. Thank you very much for your consideration.
Sincerely,
Simon Junior
Enclosure: Resume
That is all about an account executive cover letter. Writing such a cover letter is a good chance to impress the hiring employer. To write an impressive cover letter, you can follow the sample above.
Similar Posts: