Being a fashion sales associate is very fun and challenging. The first step you will have to do is to write a cover letter. In this article, we will discuss a fashion sales associate cover letter further. If you are interested in it, let's pay attention to the following discussion.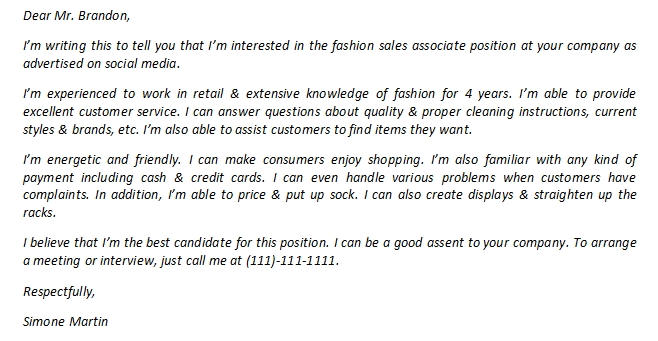 What Skills to Include on a Sales Associate Resume?
Here are some of the most common skills to be included in a sales associate resume:
Retail software skills
Team leadership skills
Interpersonal skills
Product knowledge
Time management skills
Problem-solving skills
Communication skills
Organizational skills
What Parts Added in a Fashion Sales Associate Cover Letter?
A cover letter should contain the following parts:
A greeting or salutation to the hiring manager.
An introductory paragraph or opening statement.
The body of the letter in 2 or 3 paragraphs.
A closing paragraph.
Your signature.
How to Make a Fashion Sales Associate Cover Letter
Here is how to create such a cover letter in a proper format:
First of all, you have to begin with a greeting.
After that, you can start the paragraph with an opening statement expressing your interest in the available job.
Then, you should explain why you are the best candidate for the fashion sales associate position.
Next, you should thank for the manager's time & consideration.
Close it with your signature.
Tips to Make a Fashion Sales Associate Cover Letter
There are a few tips to consider when you create such a cover letter:
Know to whom the cover letter will be addressed.
Create a compelling subject line.
Keep it short and simple.
Think about social media as the opening act.
It is allowed to show a little bit of your personality.
Get a proofreader.
Timing is everything.
Following up.
Fashion Sales Associate Cover Letter Sample
You can use the following sample for your reference in writing your own cover letter:
Dear Mr. Brandon,
I'm writing this to tell you that I'm interested in the fashion sales associate position at your company as advertised on social media.
I'm experienced to work in retail & extensive knowledge of fashion for 4 years. I'm able to provide excellent customer service. I can answer questions about quality & proper cleaning instructions, current styles & brands, etc. I'm also able to assist customers to find items they want.
I'm energetic and friendly. I can make consumers enjoy shopping. I'm also familiar with any kind of payment including cash & credit cards. I can even handle various problems when customers have complaints. In addition, I'm able to price & put up sock. I can also create displays & straighten up the racks.
I believe that I'm the best candidate for this position. I can be a good assent to your company. To arrange a meeting or interview, just call me at (111)-111-1111.
Respectfully,
Simone Martin
That is all about a fashion sales associate cover letter. By paying attention to the sample above, you will be able to create your own cover letter in the proper format.
Similar Posts: