A cover letter should include your education, skills, & the reasons why you are the best match for a position and company you are applying for. A cover letter should also include references. So, in this article, we will discuss cover letter references further. Now, let's pay attention to this discussion!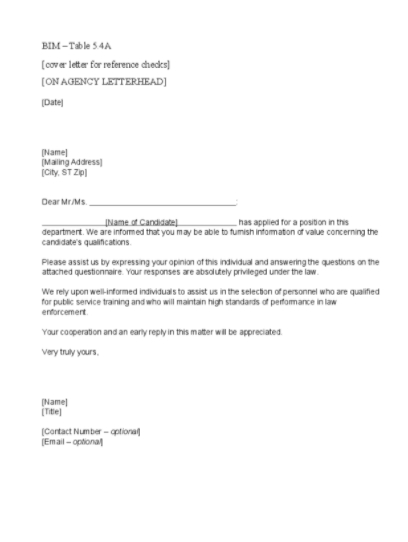 What Does a Cover Letter Need to Include?
When you create a cover letter, you will need to include specific information. It may relate to a contact section, an introduction to the hiring employer, a salutation, and the reasons why you meet the required qualifications for the opening position, a closing paragraph, & your signature. You can list the information in different ways. The format of the cover letter depends on how you send it.
Is It Important to Include a Cover Letter?
A cover letter gives you the chance to elaborate on your story before you get the opportunity to interview with the hiring employer. While getting the opportunity to exhibit your qualifications for the position & explain what makes you an ideal fit, a manager needs to know more about your situation.
How Do You Add References to a Cover Letter?
Here is how you can add references to your cover letter:
Firstly, you will have to state your shared connection in the opening paragraph of the cover letter.
After that, you need to add the name of your referral, your relationship, & how they're familiar with your qualifications.
Then, you should summarize why they recommend you.
Next, explain how your experience prepares you for this position.
Should I Include References in a Cover Letter?
When it comes to a cover letter, many questions may come up. As an applicant, you want to ensure that every aspect is addressed because if one is approached or omitted in the incorrect way, it can be different between getting the job and not. One of the most common questions is: should I include references in a cover letter?
The most often answer is "no". The only case where you may refer to a professional contact is when someone suggested you for a position. This is basically named as a recommendation cover letter. It refers to someone who is a mutual contact between you & the hiring employer.
This is the best type of reference you may offer as the hiring manager knows the party recommending you. Their reputation in the career is really vouched for. If you have a mutual contact regarding to a company you're applying to, this recommendation should refer to full name in the opening paragraph.
You should never add this information in the initial cover letter address. There are 2 basic reasons. First, the professional reference review is the second/third step in the hiring process. It shouldn't function as the part of your skills. It looks unprofessional to the employer.
Besides, the names & contact information of the cover letter references shouldn't be given away. Now, you have found the answer for this question. So, you have to write a cover letter by following the guidelines above.
Similar Posts: