If you want to be a librarian, you can start your career as a library assistant. To apply for the relevant job, the very first step to do is to write and send a library assistant cover letter. Writing this kind of cover letter is very challenging. So, this article will discuss it further.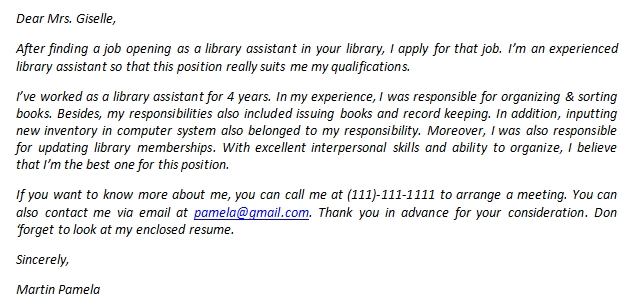 What Skills Do You Need to Be a Library Assistant?
There are a few required skills for a library assistant. They include:
High school diploma
Experience in customer service
Computer literacy
Excellent organizational skills
Good problem-solving ability and attention to detail
Great interpersonal skills
Good verbal & written communication
What Are the Duties of a Library Assistant?
A library assistant has some duties. They are:
Order & process new equipment and materials.
Stock and shelve items.
Make copies or fax for patrons.
Mend broken or damaged books.
Prepare books for binding.
Process & maintain periodical files.
Helps students with locating info.
Assist patrons locate print & non-print resources.
How to Write a Library Assistant Cover Letter
How to make a library assistant cover letter can be done with the following steps:
Review the job opening & research the web of the company carefully.
At the top part, list your contact info.
Greet the employer & introduce yourself professionally.
Describe your skills & achievements that are relevant to the available position.
Explain the employer why you are the best candidate.
Tips for Writing a Library Assistant Cover Letter
To write a good cover letter for a library assistant, the following tips should be considered:
Be to the point.
Focus on the relevant skills and qualifications you have.
Follow the proper rules and format.
Use good grammar.
Pay attention to spelling mistakes.
Keep it concise and brief.
Use formal writing style.
Proofread is a must.
Library Assistant Cover Letter Sample
If you are looking for a sample, you can see it below:
Dear Mrs. Giselle,
After finding a job opening as a library assistant in your library, I apply for that job. I'm an experienced library assistant so that this position really suits me my qualifications.
I've worked as a library assistant for 4 years. In my experience, I was responsible for organizing & sorting books. Besides, my responsibilities also included issuing books and record keeping. In addition, inputting new inventory in computer system also belonged to my responsibility. Moreover, I was also responsible for updating library memberships. With excellent interpersonal skills and ability to organize, I believe that I'm the best one for this position.
If you want to know more about me, you can call me at (111)-111-1111 to arrange a meeting. You can also contact me via email at pamela@gmail.com. Thank you in advance for your consideration. Don 'forget to look at my enclosed resume.
Sincerely,
Martin Pamela
That is all about a library assistant cover letter. After sending such a cover letter, you have to be patient to wait for the response from the hiring employer. If your cover letter successfully impresses him/her, he/she will invite your for an interview.
Similar Posts: