A job seeker may want employment with a certain company which hasn't posted open job requisitions. You can use an unsolicited application letter as an inquiry about possible openings. It is also used to grab the attention of a hiring manager. It is addressed to the manager of a certain division or the head of HRD.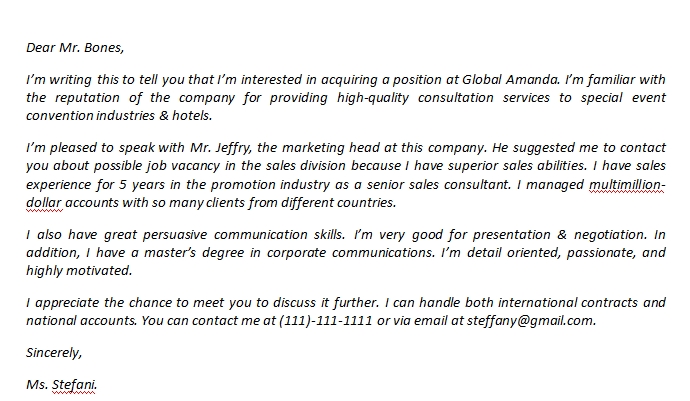 How to Make an Unsolicited Application Letter
This kind of letter should be addressed to a certain person. Anyway, you have to know the step by step how to write it.
In the first paragraph, you have to make an introduction.
After that, you can continue with the body of the letter where you make argument why you are the ideal candidate.
In the closing paragraph, you should make a request for a meeting or an interview.
You must also include your contact information in the same section.
Tips for Writing an Unsolicited Application Letter
If you want to write such a letter, there are some important tips you will need to consider. The following tips may be useful for you:
To capture the interest of the reader, you have to explain how you can benefit the organization or company.
If you want the employer to consider you for a position in the organization/company which utilizes your specific abilities & skills, it is also very important o keep the content of the letter broad in scope.
Then, this letter also has to follow the right format where it contains an introduction, body, and conclusion.
In addition, make sure that you include all the needed information details in the application letter.
One more, you have to keep it simple, concise, and understandable.
Unsolicited Application Letter Sample
Before you start writing this kind of letter, it is better if you pay attention to the following simple example below first.
Dear Mr. Bones,
I'm writing this to tell you that I'm interested in acquiring a position at Global Amanda. I'm familiar with the reputation of the company for providing high-quality consultation services to special event convention industries & hotels.
I'm pleased to speak with Mr. Jeffry, the marketing head at this company. He suggested me to contact you about possible job vacancy in the sales division because I have superior sales abilities. I have sales experience for 5 years in the promotion industry as a senior sales consultant. I managed multimillion-dollar accounts with so many clients from different countries.
I also have great persuasive communication skills. I'm very good for presentation & negotiation. In addition, I have a master's degree in corporate communications. I'm detail oriented, passionate, and highly motivated.
I appreciate the chance to meet you to discuss it further. I can handle both international contracts and national accounts. You can contact me at (111)-111-1111 or via email at steffany@gmail.com.
Sincerely,
Ms. Stefani.
That is all about an unsolicited application letter. After you pay attention to the detailed step by step, important tips, and a simple example above, now you can write such a letter on your own by following the guidelines above.
Similar Posts: