When someone accepts a job with a company, it is very important to create and send a job acceptance letter. It doesn't only confirm all details of the position being accepted but also shows respect & initiative. This kind of letter must be brief and convey all details of the acceptance.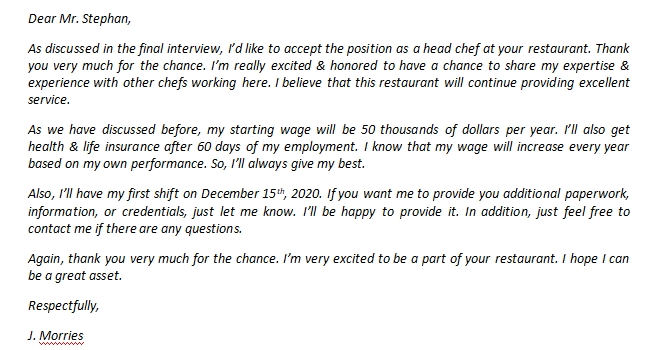 How Do You Accept a Job?
Accepting a job must be done professionally and politely. The best way to accept a job is by writing & sending a job acceptance letter. You can write such a letter with your own words. Anyway, you have to know about the proper format.
What Do You Say in a Job Acceptance Letter?
There are a few things you will need to say in this kind of letter. They include:
Thanks & appreciation for the chance.
Written acceptance of the offer.
The terms & conditions of employments related to wage, benefits, job title, and many more.
Employment starting date.
How to Create a Job Acceptance Letter
Such a letter can be created by doing the step by step below:
Create a clear subject line indicating why you write the job acceptance letter.
Address it to the appropriate party. It can be the company's manager, HRD, etc.
Thank him/her for the job offer.
Agree to & list the terms and conditions of employment.
Sign the letter.
Tips to Create a Job Acceptance Letter
To create a nice letter for a job acceptance, there are some important and useful tips to consider:
Follow the proper format.
Include all the needed information.
Be sincere to thank the employer.
Be specific and clear.
Use good grammar, polite language, and understandable sentences.
Proofread it multiple times.
Job Acceptance Letter Sample
If you need a sample, just feel free to use this for your reference:
Dear Mr. Stephan,
As discussed in the final interview, I'd like to accept the position as a head chef at your restaurant. Thank you very much for the chance. I'm really excited & honored to have a chance to share my expertise & experience with other chefs working here. I believe that this restaurant will continue providing excellent service.
As we have discussed before, my starting wage will be 50 thousands of dollars per year. I'll also get health & life insurance after 60 days of my employment. I know that my wage will increase every year based on my own performance. So, I'll always give my best.
Also, I'll have my first shift on December 15th, 2020. If you want me to provide you additional paperwork, information, or credentials, just let me know. I'll be happy to provide it. In addition, just feel free to contact me if there are any questions.
Again, thank you very much for the chance. I'm very excited to be a part of your restaurant. I hope I can be a great asset.
Respectfully,
Morries
That is all about a job acceptance letter. If you want to accept a job offer, you can write such a letter by following the sample above.
Similar Posts: