If you are working a part-time job but decide to get a full-time job, it is time to leave your part-time job. To keep your professionalism, you have to write a part time job resignation letter. If you do not know how to write it, just pay attention to the following discussion!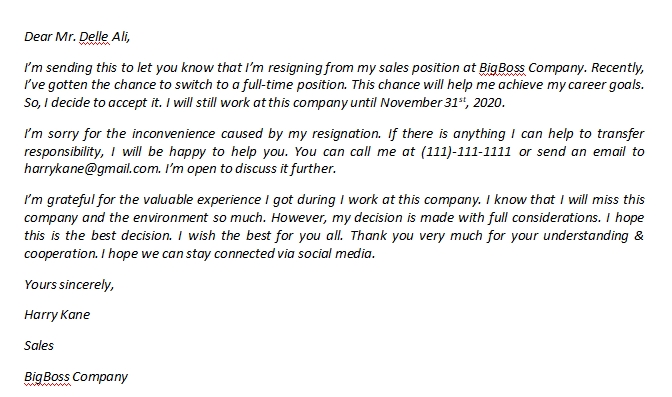 How to Make a Part-time Job Resignation Letter
This kind of letter is a formal document. So, you have to create it properly. There are a few steps you will need to follow:
In the first paragraph, you have to give the effective date of your resignation from the part-time job.
After that, you also need to give your contact information and important details to transfer your responsibilities.
Then, you should give the clear reason why you are resigning from the current part-time job.
Next, you should also say thanks to your manager for your chance to work there.
In the closing paragraph, it is important to wish the best for your company and all people involved in the company.
To end the letter, you must sign it off and write you name.
Tips for Writing a Part-time Job Resignation Letter
Some tips are needed to help you to create a resignation letter for a part-time job. So, just pay attention to the following tips:
A resignation letter should always be formal and professional.
Besides that, good grammar & spelling must also be used.
Then, it is also important to keep your resignation letter simple, concise, and understandable.
You must also give the acceptable reasons for your resignation.
Part-time Job Resignation Letter Sample
Before you create your own resignation letter, it is better to pay attention to the following sample first:
Dear Mr. Delle Ali,
I'm sending this to let you know that I'm resigning from my sales position at BigBoss Company. Recently, I've gotten the chance to switch to a full-time position. This chance will help me achieve my career goals. So, I decide to accept it. I will still work at this company until November 31st, 2020.
I'm sorry for the inconvenience caused by my resignation. If there is anything I can help to transfer responsibility, I will be happy to help you. You can call me at (111)-111-1111 or send an email to harrykane@gmail.com. I'm open to discuss it further.
I'm grateful for the valuable experience I got during I work at this company. I know that I will miss this company and the environment so much. However, my decision is made with full considerations. I hope this is the best decision. I wish the best for you all. Thank you very much for your understanding & cooperation. I hope we can stay connected via social media.
Yours sincerely,
Harry Kane
Sales
BigBoss Company
That is all about a part time job resignation letter. It is important to know how to write such a letter correctly. Hopefully, the steps, tips, and sample above can help you a lot. Now, it is your time to create such a letter on your own.
Similar Posts: