Usually, a company that opens a job vacancy will advertise it on their web or by taking an ad in a printed paper. A solicited application letter aims to get an interview. As it is a letter of introduction, you have to write it in a manner so that it can grab the attention of the hiring manager.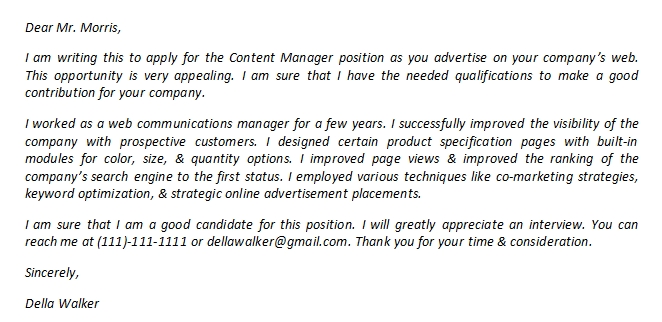 How to Make a Solicited Application Letter
Whether you are familiar with such a letter or not, you have to be able to create this kind of letter rightly. There are a few steps to follow to create it:
You can begin it with the specific advertised job position you are applying for.
Still in the first paragraph, you also need to state where you know about the job vacancy as well as why you think that you are the best candidate.
Entering to the body of the letter, you should give examples of how you will be able to help the company reach its goals with your education, skills, and experiences.
In the last, you have to make a concluding paragraph that consists of your contact info.
Here, you should also tanks the manager for his/her time & consideration.
Tips for Creating a Solicited Application Letter
Everyone can create such a letter but it requires you to consider some important tips to create a good one. Here are the tips you need to consider:
First, you have to make sure that you follow the rules & format.
Besides that, you also need to use good grammar.
In addition, you should avoid something ambiguous to keep it easy to understand.
Then, you must keep it simple & concise.
If needed, ensure that you attach supporting documents like a certificate, letter of recommendation, etc.
One more, this letter must be sent as soon as possible before the job opening is closed.
Solicited Application Letter Sample
Here, we will provide you an example of a simple application letter:
Dear Mr. Morris,
I am writing this to apply for the Content Manager position as you advertise on your company's web. This opportunity is very appealing. I am sure that I have the needed qualifications to make a good contribution for your company.
I worked as a web communications manager for a few years. I successfully improved the visibility of the company with prospective customers. I designed certain product specification pages with built-in modules for color, size, & quantity options. I improved page views & improved the ranking of the company's search engine to the first status. I employed various techniques like co-marketing strategies, keyword optimization, & strategic online advertisement placements.
I am sure that I am a good candidate for this position. I will greatly appreciate an interview. You can reach me at (111)-111-1111 or dellawalker@gmail.com. Thank you for your time & consideration.
Sincerely,
Della Walker
After paying attention to the steps, tips, and a sample above, it is your turn to create a solicited application letter on your own. Make sure that you meet all the requirements before decide to write such a letter.
Similar Posts: