An RN resignation letter is created to inform the supervising nurse/another employer that you will leave your position. In this letter, you also need to include the effective date of your resignation. It can be an emotional and difficult experience. So, let's pay attention to the following discussion!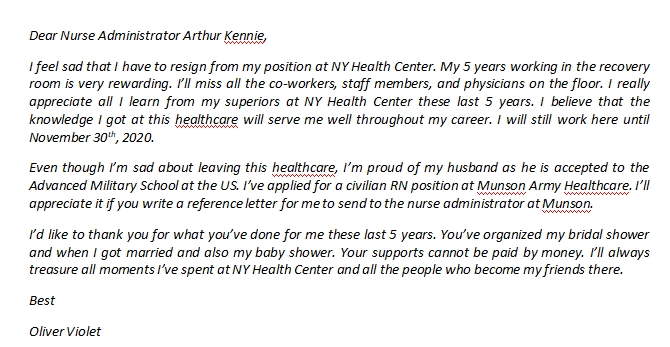 How to Make an RN Resignation Letter
Whether you leave for a good experience or a bad term, you have to write such a letter professionally. Here is the step by step you will have to do:
To start the letter, you will have to address your nurse administrator or supervisor.
After that, you should directly also state your resignation in the first paragraph.
Then, you also need to note your resignation date accurately and clearly.
Next, you must thank your employer because he/she has provided you with a job.
To end the letter, you are required to put your signature and name.
Tips for Creating an RN Resignation Letter
It is not easy to write this kind of letter. A resignation letter should be written by considering the following tips:
You have to understand and follow the rules & format of the letter.
Besides that, you must also pay attention to grammar, spelling, and diction.
Then, you need to give clear reasons why you resign.
In addition, don't forget to thank your employer for the chance to work there.
Before printing and sending, it is better if you proofread it first.
An RN Resignation Letter Sample
A sample of this kind of letter can be seen below:
Dear Nurse Administrator Arthur Kennie,
I feel sad that I have to resign from my position at NY Health Center. My 5 years working in the recovery room is very rewarding. I'll miss all the co-workers, staff members, and physicians on the floor. I really appreciate all I learn from my superiors at NY Health Center these last 5 years. I believe that the knowledge I got at this healthcare will serve me well throughout my career. I will still work here until November 30th, 2020.
Even though I'm sad about leaving this healthcare, I'm proud of my husband as he is accepted to the Advanced Military School at the US. I've applied for a civilian RN position at Munson Army Healthcare. I'll appreciate it if you write a reference letter for me to send to the nurse administrator at Munson.
I'd like to thank you for what you've done for me these last 5 years. You've organized my bridal shower and when I got married and also my baby shower. Your supports cannot be paid by money. I'll always treasure all moments I've spent at NY Health Center and all the people who become my friends there.
Best
Oliver Violet
That is all an RN resignation letter. Whatever the reason for your resignation, you have to write it professionally. If you have never created such a letter before, now you can create it by following the sample you have seen above.
Similar Posts: