A character reference letter is written by a person who knows an individual well & can attest to his/her character, integrity, & other personal traits. This kind of letter is usually written on behalf of a person who seeks employment. It can also be written by a co-worker, friend, pastor, etc.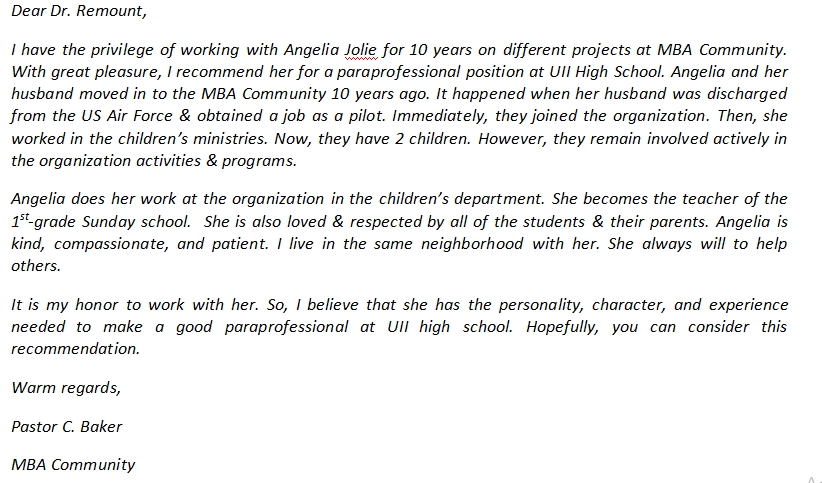 How to Make a Character Reference Letter
In writing such a letter, you should follow the step by step below:
Before starting the introductory paragraph, you have to politely greet the recipient first.
In the first paragraph, you have to clearly state your recommendation or reference.
After that, you have to explain and provide convincing reasons for your recommendation.
Then, you also need to restate your recommendation once again in the closing paragraph.
To end the letter, you are required to sign it off and write your name.
Tips for Writing a Character Reference Letter
The following tips may be useful for you who want to write this kind of letter:
It is very important to understand and follow the rules & format properly.
Besides that, you also need to pay attention to grammar and spelling.
To keep it understandable, you must use simple language and avoid ambiguous sentences.
To prevent error and mistake, it is important to proofread the letter.
In addition, you have to be brief, simple, and concise.
This letter should also be formal and professional.
You also need to address the letter rightly.
Before sending it, make sure that you sign off the letter and clearly write your name.
Character Reference Letter Sample
Before you write a letter sample on your own, it will be better if you pay attention to the following sample first:
Dear Dr. Remount,
I have the privilege of working with Angelia Jolie for 10 years on different projects at MBA Community. With great pleasure, I recommend her for a paraprofessional position at UII High School. Angelia and her husband moved in to the MBA Community 10 years ago. It happened when her husband was discharged from the US Air Force & obtained a job as a pilot. Immediately, they joined the organization. Then, she worked in the children's ministries. Now, they have 2 children. However, they remain involved actively in the organization activities & programs.
Angelia does her work at the organization in the children's department. She becomes the teacher of the 1st-grade Sunday school.  She is also loved & respected by all of the students & their parents. Angelia is kind, compassionate, and patient. I live in the same neighborhood with her. She always will to help others.
It is my honor to work with her. So, I believe that she has the personality, character, and experience needed to make a good paraprofessional at UII high school. Hopefully, you can consider this recommendation.
Warm regards,
Pastor C. Baker
MBA Community
That is all about a character reference letter. Before you decide to write such a letter, make sure that you know well about that person and his/her skills and abilities.
Similar Posts: