A promotion acceptance letter should be given to an executive in a given company when an employee is chosen for a new position of bigger responsibility. It serves as a formal notice that an employee will leave a certain position and the HRD can find a replacement. It is needed for good business etiquette.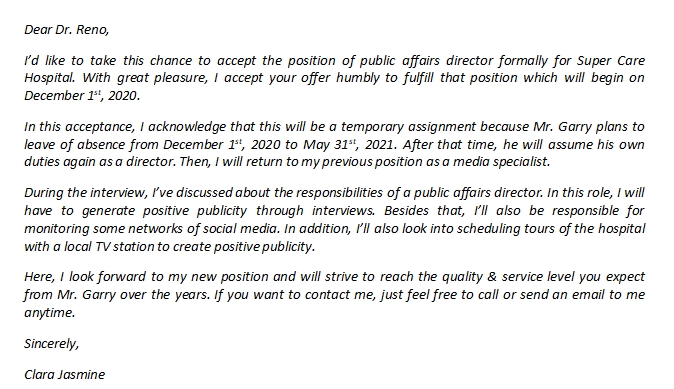 How to Make a Promotion Acceptance Letter
After you understand this kind of letter clearly, you can start writing such a letter. Here is the step by step you will need to do:
First and foremost, you have to politely greet the manager.
After that, you can write the introductory paragraph by stating the promoted position, its effective date, and what the position entails.
Then, you should state special stipulations involved in the promotion if any.
Next, you also need to tell the manager that you understand the duties of your new position.
To end the letter, you have to put your signature and name.
Tips for Writing a Promotion Acceptance Letter
Writing this kind of letter cannot be done carelessly. There are a few tips you should consider:
First, make sure that you follow a proper format.
Besides that, you have to include all the needed details.
Then, you should keep it humble in the taken approach.
In addition, this letter cannot be used as a chance to boast or brag about achievements or accomplishments.
It is also important to pay attention to spelling and grammar.
Moreover, proofreading is required to prevent errors and mistakes.
Promotion Acceptance Letter Sample
In this article, we will also provide you a simple example of a promotion acceptance letter:
Dear Dr. Reno,
I'd like to take this chance to accept the position of public affairs director formally for Super Care Hospital. With great pleasure, I accept your offer humbly to fulfill that position which will begin on December 1st, 2020.
In this acceptance, I acknowledge that this will be a temporary assignment because Mr. Garry plans to leave of absence from December 1st, 2020 to May 31st, 2021. After that time, he will assume his own duties again as a director. Then, I will return to my previous position as a media specialist.
During the interview, I've discussed about the responsibilities of a public affairs director. In this role, I will have to generate positive publicity through interviews. Besides that, I'll also be responsible for monitoring some networks of social media. In addition, I'll also look into scheduling tours of the hospital with a local TV station to create positive publicity.
Here, I look forward to my new position and will strive to reach the quality & service level you expect from Mr. Garry over the years. If you want to contact me, just feel free to call or send an email to me anytime.
Sincerely,
Clara Jasmine
That is all about a promotion acceptance letter. After paying attention to the sample above, it seems easy to create such a letter. Now, it is your turn to write your own letter.
Similar Posts: