An administrative assistant recommendation letter can be created by a current employer, a pastor, a teacher, or anyone who can vouch for the character and dependability of the person who is applying for a job. This letter can be given to the job applicant or directly sent to the prospective employer.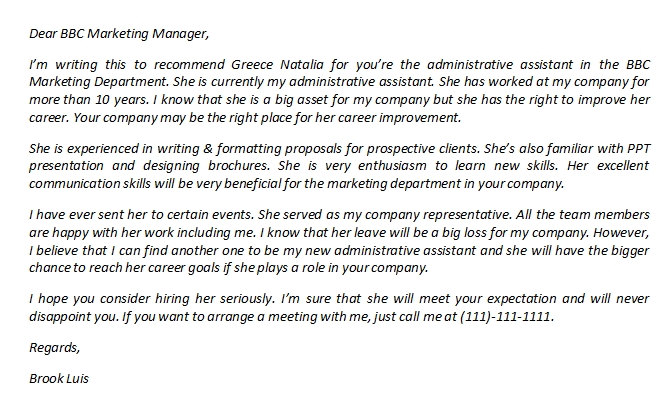 How to Make an Administrative Assistant Recommendation Letter
If you want to know how to make such a letter, you just need to follow the step by step below:
You have to start this letter by addressing it to a manager who is looking for an administrative assistant.
After that, you can begin the paragraph by directly state your recommendation.
Then, you have to describe the person you recommend and convince that he/she is the best candidate to be an administrative assistant.
In the last paragraph, you must wish that the manager consider the person you recommend.
You should also include your contact information to let him/her call or email you for further questions.
You have to end the letter with your signature and name.
Tips for Creating an Administrative Assistant Recommendation Letter
There are some important tips that will be useful for writing such a letter:
A proper format must be followed when writing this kind of letter.
You also have to use good spelling and grammar to keep it formal and professional.
Besides that, you should keep it simple, concise, and clear.
Then, you must include the strengths of the person you recommend in detail.
In addition, it is a good idea to add supporting documents if any.
Before printing and sending it, make sure that you proofread the letter first.
Administrator Assistant Recommendation Letter Sample
Below is an example of a recommendation letter for an administrator assistant:
Dear BBC Marketing Manager,
I'm writing this to recommend Greece Natalia for you're the administrative assistant in the BBC Marketing Department. She is currently my administrative assistant. She has worked at my company for more than 10 years. I know that she is a big asset for my company but she has the right to improve her career. Your company may be the right place for her career improvement.
She is experienced in writing & formatting proposals for prospective clients. She's also familiar with PPT presentation and designing brochures. She is very enthusiasm to learn new skills. Her excellent communication skills will be very beneficial for the marketing department in your company.
I have ever sent her to certain events. She served as my company representative. All the team members are happy with her work including me. I know that her leave will be a big loss for my company. However, I believe that I can find another one to be my new administrative assistant and she will have the bigger chance to reach her career goals if she plays a role in your company.
I hope you consider hiring her seriously. I'm sure that she will meet your expectation and will never disappoint you. If you want to arrange a meeting with me, just call me at (111)-111-1111.
Regards,
Brook Luis
That is all about an administrative assistant recommendation letter. You can write your own recommendation letter by following the sample above.
Similar Posts: