If you have a new commitment in your life that will require you to stop volunteering entirely or cut it back, you'll need to create a volunteer resignation letter. It will show your goodwill to the organization & provide advance notice to its management. So, they will appreciate and understand your decision.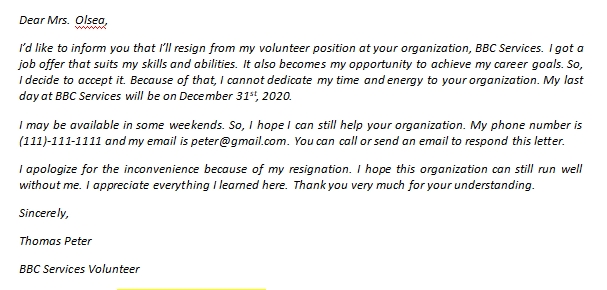 What Is a Voluntary Resignation?
A voluntary resignation is the situation where you decide to terminate your service or contract with an organization in your volition. You have to show your decision in a professional and formal manner. In this case, what you'll need to write is a resignation letter.
How to Resign from a Volunteer Position
You should inform the president and board chair verbally first. After that, tell the rest of the board in person. Make sure that you apologize if you cannot fulfill your duties with your best. A verbal resignation must be followed with a formal resignation letter. It is sent to the board president of the organization.
How to Make a Volunteer Resignation Letter
Writing such a letter can be done in a few steps below:
Firstly, you'll have to tell the manager of the organization.
After that, you should state your position and the effective date of your resignation.
Then, you need to explain why you resign from a volunteer position.
Next, you're required to express gratitude.
Finally, close the resignation letter with your signature and name.
Tips for Creating a Volunteer Resignation Letter
This kind of letter must be created carefully. Here are some tips to consider:
This kind of letter should use the format of business letters.
Besides that, you have to state your resignation clearly.
Then, it is also important to provide the reasons of your resignation.
In addition, you need to pay attention to grammar & spelling.
To keep it brief, concise, and understandable, you may need to proofread it.
Volunteer Resignation Letter Sample
We have an example of a volunteer resignation letter you can use for your reference.
Dear Mrs. Olsea,
I'd like to inform you that I'll resign from my volunteer position at your organization, BBC Services. I got a job offer that suits my skills and abilities. It also becomes my opportunity to achieve my career goals. So, I decide to accept it. Because of that, I cannot dedicate my time and energy to your organization. My last day at BBC Services will be on December 31st, 2020.
I may be available in some weekends. So, I hope I can still help your organization. My phone number is (111)-111-1111 and my email is peter@gmail.com. You can call or send an email to respond this letter.
I apologize for the inconvenience because of my resignation. I hope this organization can still run well without me. I appreciate everything I learned here. Thank you very much for your understanding.
Sincerely,
Thomas Peter
BBC Services Volunteer
That is all about a volunteer resignation letter. You have to send such a letter at least 2 weeks before the effective date of your resignation so that the organization have enough time to look for another volunteer if needed.
Similar Posts: