If you are an employee and have an executive position in the company, you must be professional in your communications including your conduct in resigning from your position. In this situation, you will need to write an executive resignation letter. This letter is addressed to the chairman of the company.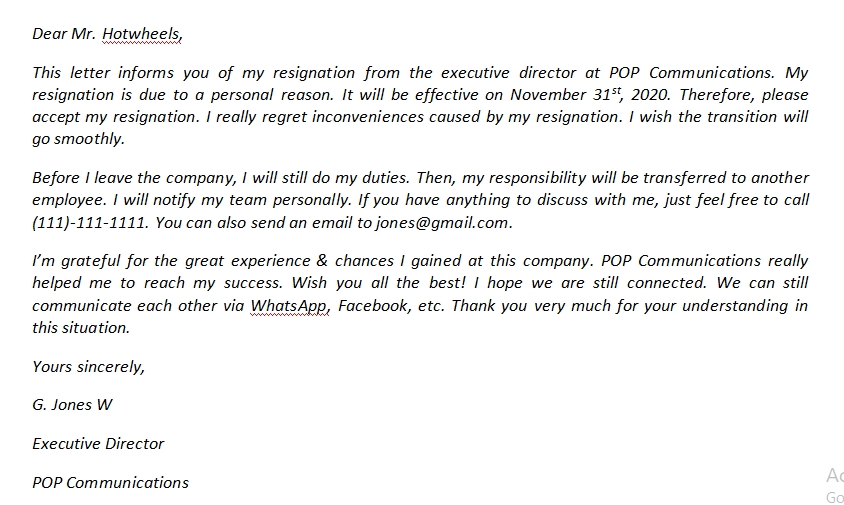 How to Make an Executive Resignation Letter
This kind of letter helps show that you leave your position in goodwill & guard against bridges being burned. To write such a letter, you should follow the step by step below:
In the first paragraph, you have to directly state that you are resigning from your executive position.
After that, you need to include the effective date of your executive resignation.
If you want, you can also briefly explain why you are resigning.
Then, you should include your contact information, too,
Next, it is a must to describe your plan to transfer responsibility.
In the end, you still need to express your regret & appreciation.
To end the resignation letter, make sure that you sign it off and write your name.
Tips for Writing an Executive Resignation Letter
This kind of resignation letter is very important. So, you have to create such a letter carefully. Make sure that you consider the following tips:
For a professional & cordial resignation letter, you have to use formal writing style.
Besides that, make sure that you include all the needed details.
Then, you should represent yourself as a top executive on the letterhead.
You have to type this letter properly by paying attention to format, grammar, spelling, and diction.
In addition, you may need to send a copy of this resignation letter to the HRD.
Executive Resignation Letter Sample
The example of such a letter can be seen below. You can use it for your reference.
Dear Mr. Hotwheels,
This letter informs you of my resignation from the executive director at POP Communications. My resignation is due to a personal reason. It will be effective on November 31st, 2020. Therefore, please accept my resignation. I really regret inconveniences caused by my resignation. I wish the transition will go smoothly.
Before I leave the company, I will still do my duties. Then, my responsibility will be transferred to another employee. I will notify my team personally. If you have anything to discuss with me, just feel free to call (111)-111-1111. You can also send an email to jones@gmail.com.
I'm grateful for the great experience & chances I gained at this company. POP Communications really helped me to reach my success. Wish you all the best! I hope we are still connected. We can still communicate each other via WhatsApp, Facebook, etc. Thank you very much for your understanding in this situation.
Yours sincerely,
Jones W
Executive Director
POP Communications
That is all about an executive resignation letter. You have seen everything about this resignation letter. If you want to write your own resignation letter from your executive position, just follow the rules and format of the sample above.
Similar Posts: