A physician is dedicated to the well-being and health of his/her patients. Sometimes, a physician has to make a decision to end the relationship between a doctor and a patient for a reason. To notice the patient, a physician will need to write and send a patient termination letter.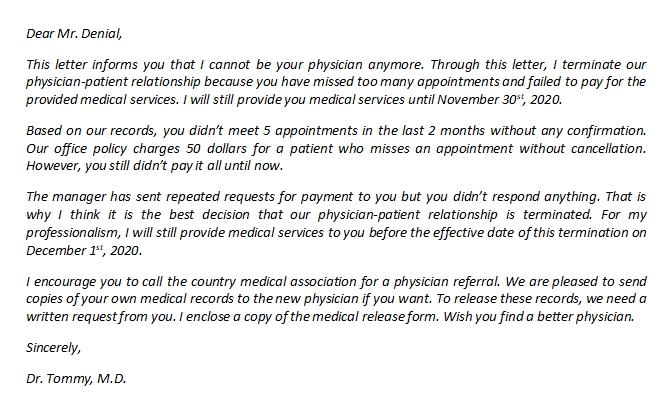 How to Make a Patient Termination Letter
It is very important to know how to create such a letter. Here is the step by step you will need to do:
In the introductory paragraph, you have to directly provide the specific reasons why the doctor won't provide a medical service to the patient anymore.
After that, you also need to state the amount of time the physician gives the patient to get a new healthcare provider.
Then, the doctor should inform the patient of the procedures for his/her medical records.
To end the letter, you must put your signature and name.
Tips for Writing a Patient Termination Letter
Some tips are needed for writing such a letter. Make sure that you consider the following tips:
First, you will need to ensure that this letter follows a proper format.
Besides, you also have to make it detailed, simple, and concise.
To keep it easy to understand, make sure that it uses good spelling, grammar, and diction.
Ambiguous and informal words must be avoided.
Proofreading is required to prevent errors and mistakes.
One more, you have to send it to the patient by a certified mail and request a return receipt.
Patient Termination Letter Sample
Even though you have paid attention to the steps and tips above, you still need to pay attention to the following example:
Dear Mr. Denial,
This letter informs you that I cannot be your physician anymore. Through this letter, I terminate our physician-patient relationship because you have missed too many appointments and failed to pay for the provided medical services. I will still provide you medical services until November 30st, 2020.
Based on our records, you didn't meet 5 appointments in the last 2 months without any confirmation. Our office policy charges 50 dollars for a patient who misses an appointment without cancellation. However, you still didn't pay it all until now.
The manager has sent repeated requests for payment to you but you didn't respond anything. That is why I think it is the best decision that our physician-patient relationship is terminated. For my professionalism, I will still provide medical services to you before the effective date of this termination on December 1st, 2020.
I encourage you to call the country medical association for a physician referral. We are pleased to send copies of your own medical records to the new physician if you want. To release these records, we need a written request from you. I enclose a copy of the medical release form. Wish you find a better physician.
Sincerely,
Dr. Tommy, M.D.
That is all about a patient termination letter. If you want to terminate your patient because of certain reasons, you can write and send such a letter by following the sample above.
Similar Posts: