A child care provider recommendation letter is usually created for an in-home daycare, a commercial daycare center, or a nanny working in the home of the client. Usually, it is made by a parent of a child cared for by a former employer or the applicant. Now, let's discuss it further here.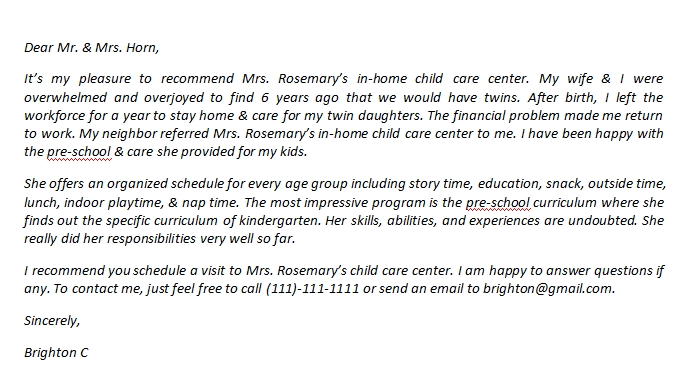 How to Make a Child Care Provider Recommendation Letter
If you want to write this kind of letter on your own, you have to know the detailed step by step to do. So, you will be able to write such a letter rightly.
First of all, you have to greet the recipient politely.
After that, you will need to straight to the point that you recommend a child care provider to someone or an organization.
Then, you have to explain the advantages of the child care provider you are recommending.
In the last paragraph, you should request further discussion and leave out your phone number & email.
Tips for Writing a Child Care Provider Recommendation Letter
There are a few tips that will be useful in writing such a letter. So, make sure that you consider the following guides and tips below:
First, you will have to follow the rules & format.
Besides that, you are also required to use good grammar.
Then, you also need to keep it simple, formal, professional, and understandable.
In addition, ambiguous sentences must be avoided.
Furthermore, it is important to provide convincing reasons why you recommend the child care provider.
Child Care Provider Recommendation Letter Sample
After paying attention to the steps and tips above, it is better to see the following sample before you practice writing your own recommendation letter.
Dear Mr. & Mrs. Horn,
It's my pleasure to recommend Mrs. Rosemary's in-home child care center. My wife & I were overwhelmed and overjoyed to find 6 years ago that we would have twins. After birth, I left the workforce for a year to stay home & care for my twin daughters. The financial problem made me return to work. My neighbor referred Mrs. Rosemary's in-home child care center to me. I have been happy with the pre-school & care she provided for my kids.
She offers an organized schedule for every age group including story time, education, snack, outside time, lunch, indoor playtime, & nap time. The most impressive program is the pre-school curriculum where she finds out the specific curriculum of kindergarten. Her skills, abilities, and experiences are undoubted. She really did her responsibilities very well so far.
I recommend you schedule a visit to Mrs. Rosemary's child care center. I am happy to answer questions if any. To contact me, just feel free to call (111)-111-1111 or send an email to brighton@gmail.com.
Sincerely,
Brighton C
That is all about a child care provider recommendation letter. It is better if you make the recommendation based on your own experience. Before you start writing this kind of letter, you should prepare the reasons why you recommend a child care provider so that you know what you will write.
Similar Posts: