An employee who completes the probationary period requirements successfully may wish to look for an early release from the status of probation. The release request must be submitted to an authority person or the company employee review board through an early probation termination letter.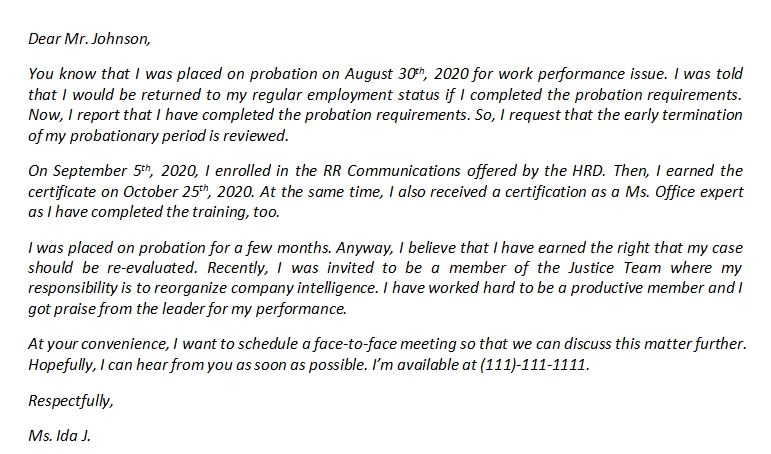 How to Make an Early Probation Termination Letter
Writing this kind of letter should be done carefully. There are a few steps you will need to follow here:
First of all, you have to politely greet your employer.
After that, you can start writing an introductory paragraph.
In the body of the letter, you are required to include evidence supporting your reasoning.
Then, you should end the letter by requesting for a review of your case with a face-to-face meeting.
Last but not least, make sure that you sign off the letter before you send or submit it.
Tips for Creating an Early Probation Termination Letter
To create such a letter properly, you are required to consider some important tips. The following tips may be useful for you:
You have to dedicate the time to create such a letter.
In this letter, you also need to present your case respectfully and professionally.
Besides that, it is important to double check for spelling and grammar mistakes before sending it.
In addition, it is a must to acknowledge your probation as well as the reason for the probation.
Then, it should be followed with your request for early release.
Moreover, you have to keep it simple, well-formatted, formal, and easy to understand.
Early Probation Termination Letter Sample
Before you start writing your own termination letter, it is better if you pay attention to the following example first.
Dear Mr. Johnson,
You know that I was placed on probation on August 30th, 2020 for work performance issue. I was told that I would be returned to my regular employment status if I completed the probation requirements. Now, I report that I have completed the probation requirements. So, I request that the early termination of my probationary period is reviewed.
On September 5th, 2020, I enrolled in the RR Communications offered by the HRD. Then, I earned the certificate on October 25th, 2020. At the same time, I also received a certification as a Ms. Office expert as I have completed the training, too.
I was placed on probation for a few months. Anyway, I believe that I have earned the right that my case should be re-evaluated. Recently, I was invited to be a member of the Justice Team where my responsibility is to reorganize company intelligence. I have worked hard to be a productive member and I got praise from the leader for my performance.
At your convenience, I want to schedule a face-to-face meeting so that we can discuss this matter further. Hopefully, I can hear from you as soon as possible. I'm available at (111)-111-1111.
Respectfully,
Ms. Ida J.
That is all about an early probation termination letter. Hopefully, the detailed steps, important tips, and a simple example above can help you a lot.
Similar Posts: