When an employee needs to take time off from his/her work to care for his/her medical needs or those of his/her family members, sending a medical leave letter is required to keep his/her professionalism. Usually, a company requires attaching proof of medical need to this kind of letter.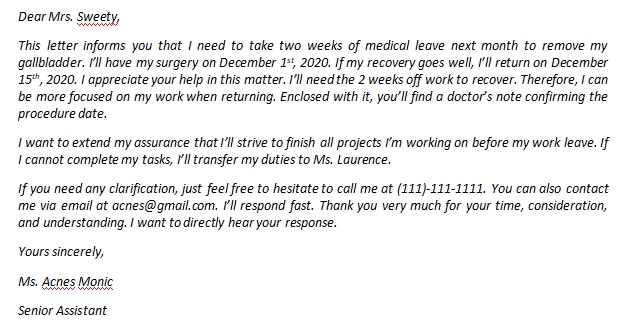 What Is a Medical Leave Letter?
This kind of letter includes a summary of your next medical procedures as well as the dates you will have to take your leave. It is a professional way to ensure goodwill between an employer and an employee. It also keeps essential information on file for the future.
Why Needs a Medical Leave Letter?
When an employee needs to leave a work for his/her medical needs, a company usually requires him/her to send such a letter. With this kind of letter, an employer will believe that an employee really leaves his/her work for medical needs. So, the employer can permit the employee to be off from his/her work for a period of time.
How to Write a Medical Leave Letter
How to create such a leave letter can be done with the following steps:
Provide the reason of your absence.
State how long you will be off from work.
Address your availability to communicate or talk.
Clarify if you will work or not.
Attach doctor's note & other documentation if any.
Name your person.
Create a professional closing.
Tips for Creating a Medical Leave Letter
A medical leave letter cannot be written carelessly. The following tips must be considered:
Follow the proper format.
Use good grammar.
Pay attention to spelling.
Use a formal writing style.
Be clear and detailed.
Keep it brief and concise.
Attach supporting documents if any.
Proofread it before sending the letter.
Medical Leave Letter Sample
Let's see the following sample of a medical leave letter:
Dear Mrs. Sweety,
This letter informs you that I need to take two weeks of medical leave next month to remove my gallbladder. I'll have my surgery on December 1st, 2020. If my recovery goes well, I'll return on December 15th, 2020. I appreciate your help in this matter. I'll need the 2 weeks off work to recover. Therefore, I can be more focused on my work when returning. Enclosed with it, you'll find a doctor's note confirming the procedure date.
I want to extend my assurance that I'll strive to finish all projects I'm working on before my work leave. If I cannot complete my tasks, I'll transfer my duties to Ms. Laurence.
If you need any clarification, just feel free to hesitate to call me at (111)-111-1111. You can also contact me via email at acnes@gmail.com. I'll respond fast. Thank you very much for your time, consideration, and understanding. I want to directly hear your response.
Yours sincerely,
Ms. Acnes Monic
Senior Assistant
That is all about a medical leave letter. This letter is needed to ask for permission from your employer to be off from work for a period of time professionally.
Similar Posts: