A job appointment letter informs a candidate selected to fulfill an available position in a company. This kind of letter may be written by a hiring employer or another company official. Such a letter can boost the new employee's confidence & set the tone for a positive relationship of working.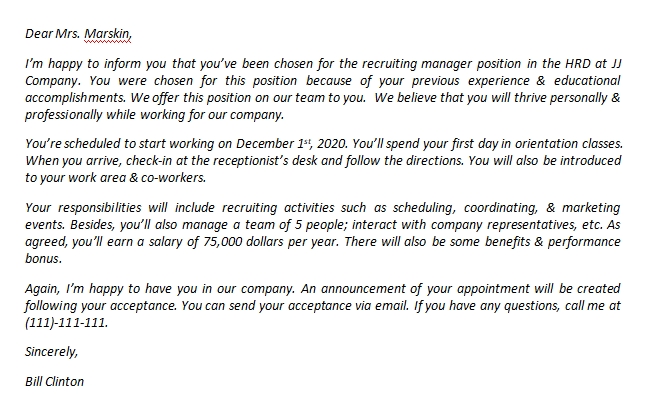 How to Make a Job Appointment Letter
It is very important to know how to write such a letter. It usually contains 4 paragraphs. The step by step in writing this kind of letter can be seen below:
In the first paragraph, you have to welcome a new employee.
After that, you also need to provide some reasons why the employee was chosen.
In the second paragraph, you should give directions to the employee. It includes when, where, & what time to report to work.
In the next paragraph, you must create an overview of the expectations of the job.
In the last paragraph, you are required to provide the contact information of the company.
Then, don't forget to serves a second welcome.
Tips for Creating a Job Appointment Letter
Creating such a letter is not an easy task. Therefore, you may need to consider the following tips for the best result:
Besides following the rules & format, this letter should also have a friendly and welcoming tone.
This kind of letter also has to use good grammar & spelling.
Then, you also need to avoid informal & ambiguous words.
In addition, you have to keep it simple, concise, and professional.
To make it more convincing and impressive, you can attach supporting documents if required.
Before sending the letter, make sure that you proofread it first.
Job Appointment Letter Sample
If you need an example of a job appointment letter, let's pay attention to the simple example you can see below:
Dear Mrs. Marskin,
I'm happy to inform you that you've been chosen for the recruiting manager position in the HRD at JJ Company. You were chosen for this position because of your previous experience & educational accomplishments. We offer this position on our team to you.  We believe that you will thrive personally & professionally while working for our company.
You're scheduled to start working on December 1st, 2020. You'll spend your first day in orientation classes. When you arrive, check-in at the receptionist's desk and follow the directions. You will also be introduced to your work area & co-workers.
Your responsibilities will include recruiting activities such as scheduling, coordinating, & marketing events. Besides, you'll also manage a team of 5 people; interact with company representatives, etc. As agreed, you'll earn a salary of 75,000 dollars per year. There will also be some benefits & performance bonus.
Again, I'm happy to have you in our company. An announcement of your appointment will be created following your acceptance. You can send your acceptance via email. If you have any questions, call me at (111)-111-111.
Sincerely,
Bill Clinton
That's all about a job appointment letter. After sending such a letter, give some time to let the employee send the acceptance.
Similar Posts: