Receiving a second interview request is a good opportunity to get a job appointment letter. For your information, a second interview letter aims to signify that a candidate is in the list of the candidates to be considered for an available position. This informational letter makes a candidate feel good.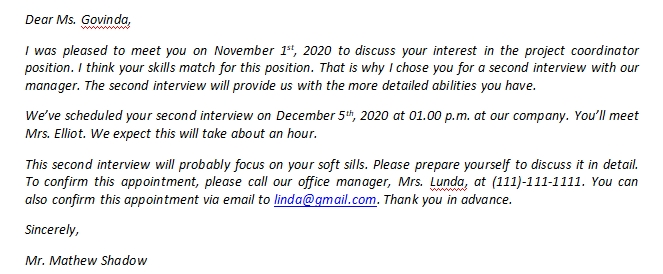 What Does It Mean to Be Invited for a Second Interview?
If you are invited for a second interview, you are lucky! Congratulations! It means you are chosen with some other candidates for the last stage of the job hiring process. So, you cannot miss this chance. It is the best opportunity to show that you are the best among other candidates.
How Many Candidates Are Invited for a Second Interview?
The numbers of candidates invited for a second interview depend on the how many candidates who successfully impressed the hiring manager in the first interview. Being invited for a second interview means that your opportunity to get hired is increased.
Do You Write a Thank You Note after a Second Interview?
It is a good idea to send a thank-you note after the second interview. It is important to personally write a message to those who interviewed you. A thank-you note is still needed even though you have ever sent it after the first interview.
How to Make a Second Interview Letter
Here is how to create such a letter properly:
Highlight the reasons the candidate is chosen for a second interview.
Identify the needed details including the date, time, & location of the interview.
State the names of the persons who will perform the interview.
Explain why you want to perform the second interview.
Explain what the candidate wants.
Tips to Make a Second Interview Letter
The following tips should be considered when writing such a cover letter:
Follow the correct format.
Use formal English grammar.
Pay attention to spelling.
Use polite diction.
Keep it brief, concise, easy-to-understand.
Don't forget to proofread it.
Second Interview Letter Sample
Now, let's pay attention to the following sample:
Dear Ms. Govinda,
I was pleased to meet you on November 1st, 2020 to discuss your interest in the project coordinator position. I think your skills match for this position. That is why I chose you for a second interview with our manager. The second interview will provide us with the more detailed abilities you have.
We've scheduled your second interview on December 5th, 2020 at 01.00 p.m. at our company. You'll meet Mrs. Elliot. We expect this will take about an hour.
This second interview will probably focus on your soft sills. Please prepare yourself to discuss it in detail. To confirm this appointment, please call our office manager, Mrs. Lunda, at (111)-111-1111. You can also confirm this appointment via email to linda@gmail.com. Thank you in advance.
Sincerely,
Mr. Mathew Shadow
That is all about a second interview letter. A second interview must be given to those whose skills really meet the required qualifications and made an impressive interview in the first chance.
Similar Posts: