Most financial aid awards will come with a grade requirement. Usually, financial aid is discontinued if the requirement is not met. When many extenuating circumstances contributing to low grades & the revoking of an award of a financial aid, a student needs to consider creating a financial aid reinstatement appeal letter. Maybe, you are still unfamiliar with this kind of letter. Therefore, we will discuss it further here.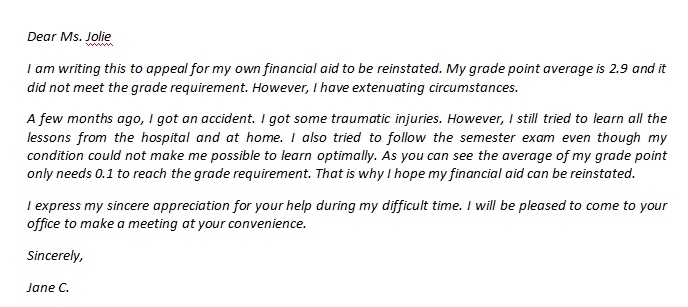 How to Make a Financial Aid Reinstatement Appeal Letter
There are a few steps to follow in creating this kind of letter:
You will have to address the counselor of a specific financial aid who is going to consider the appeal.
Then, you need to explain why you were unable to meet the required grades.
After that, you should explain what you plan to do in the upcoming semester(s) to raise your grades.
Next, you must explain how losing financial aid negatively impacts your education.
In addition, you should attach any required appeal form & supporting document to this letter.
If possible, it is a good idea to send this letter to the financial aid office. If possible, you should also try to see the counselor face-to-face.
Tips for Writing a Financial Aid Reinstatement Appeal Letter
This kind of letter must be written carefully. For the best result, you need to consider the following tips and guidelines:
First, make sure that you follow the proper format.
Besides that, you have to know the content of the letter.
Then, the letter must be written in good grammar.
In addition, you have to keep it clear, concise, and understandable.
One more, we recommend you to use our template to save a lot of time and effort.
The Sample of a Financial Aid Reinstatement Appeal Letter
Whatever the reason why you want to write this kind of letter, the following sample may help you a lot:
Dear Ms. Jolie
I am writing this to appeal for my own financial aid to be reinstated. My grade point average is 2.9 and it did not meet the grade requirement. However, I have extenuating circumstances.
A few months ago, I got an accident. I got some traumatic injuries. However, I still tried to learn all the lessons from the hospital and at home. I also tried to follow the semester exam even though my condition could not make me possible to learn optimally. As you can see the average of my grade point only needs 0.1 to reach the grade requirement. That is why I hope my financial aid can be reinstated.
I express my sincere appreciation for your help during my difficult time. I will be pleased to come to your office to make a meeting at your convenience.
Sincerely,
Jane C.
That is all the guidelines, tips, and a sample of a financial aid reinstatement appeal letter. You can make your own words for your letter based on your own reasons. Hopefully, this can be useful and helpful for all students.
Similar Posts: