If you currently work at a restaurant but you want to resign for certain reasons, you have to stay professional. In this case, what you need is to write a restaurant resignation letter. This kind of letter is sent to your manager. With this letter, you can demonstrate your integrity. This letter also shows that you do not have hard feelings to your employer.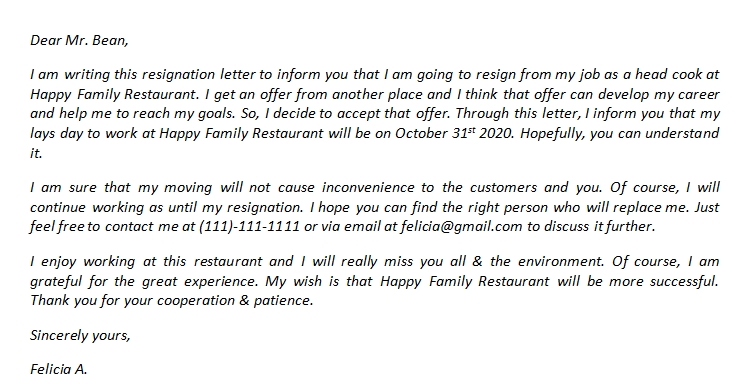 How to Make a Restaurant Resignation Letter
After you know the proper format, you can start writing this kind of letter. Here, you will need to follow these steps:
You can directly let your employer know that you are going to resign from the restaurant soon.
In the same paragraph, you should also state the effective date you will leave the restaurant.
In the letter, you also have to say that you really appreciate the opportunity to work at the restaurant.
You can also say that you really got a great experience during your employment.
In the last paragraph, do not forget to say thank you and your best wish for the restaurant.
In the end, the letter must be signed off.
Tips for Writing a Restaurant Resignation Letter
To create a professional resignation letter, the following tips will be useful and helpful:
Before start writing, you will have to find the proper format first.
Then, you must follow the format well.
Besides that, make sure that you write the right reasons why you will have to resign from your current job.
This kind of letter must be sent in a printed sheet of paper.
One more, you should send it to your employer least 2 weeks before the effective date of your resignation. So, your employer will have enough time to find another person who can replace your position.
Restaurant Resignation Letter Sample
The following sample can be your reference to write your own resignation letter.
Dear Mr. Bean,
I am writing this resignation letter to inform you that I am going to resign from my job as a head cook at Happy Family Restaurant. I get an offer from another place and I think that offer can develop my career and help me to reach my goals. So, I decide to accept that offer. Through this letter, I inform you that my lays day to work at Happy Family Restaurant will be on October 31st 2020. Hopefully, you can understand it.
I am sure that my moving will not cause inconvenience to the customers and you. Of course, I will continue working as until my resignation. I hope you can find the right person who will replace me. Just feel free to contact me at (111)-111-1111 or via email at felicia@gmail.com to discuss it further.
I enjoy working at this restaurant and I will really miss you all & the environment. Of course, I am grateful for the great experience. My wish is that Happy Family Restaurant will be more successful. Thank you for your cooperation & patience.
Sincerely yours,
Felicia A.
That is what you have to know about a restaurant resignation letter. Hopefully, the sample and tips above can help you to write your own resignation letter.
Similar Posts: