A lease agreement can also be called a rental agreement. It is a legal contract between a property owner or landlord and a tenant or the one who wants to use the property temporarily for a period of time. Here, a lease agreement letter contains the terms including payment, due dates, etc.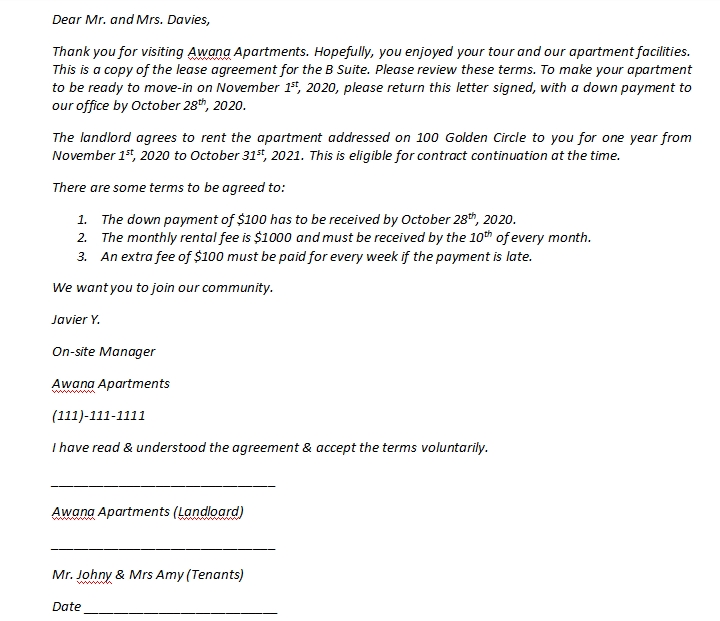 How to Make a Lease Agreement Letter
This kind of letter is very important for both the landlord and the tenant. So, you have to be able to write such a letter correctly. There are a few steps you will need to follow here:
First of all, you will have to include the tenant's financial obligations.
Second of all, you will also need to clearly define the amount of rent, the due date, and also the consequences of missing payments.
After that, you should also add rules for a community or a security deposit if any.
Then, what you must write is the timeline of the agreement.
If there are terms for renewal, you are also required to include it.
Tips for Writing a Lease Agreement Letter
Writing this kind of letter is not easy. You should consider some important tips. So, this kind of letter will work effectively. Those important tips can be seen below:
First, you have to understand and follow the rules & format.
Besides that, you have to ensure that you include all the needed details as stated above.
Then, using good grammar also belongs to the most important tips.
In addition, you have to keep it simple, concise, and easy to understand.
One more, makes sure that both parties sign off the letter to make it legal.
Lease Agreement Letter Sample
Here is an example of a lease agreement letter:
Dear Mr. and Mrs. Davies,
Thank you for visiting Awana Apartments. Hopefully, you enjoyed your tour and our apartment facilities. This is a copy of the lease agreement for the B Suite. Please review these terms. To make your apartment to be ready to move-in on November 1st, 2020, please return this letter signed, with a down payment to our office by October 28th, 2020.
The landlord agrees to rent the apartment addressed on 100 Golden Circle to you for one year from November 1st, 2020 to October 31st, 2021. This is eligible for contract continuation at the time.
There are some terms to be agreed to:
The down payment of $100 has to be received by October 28th, 2020.
The monthly rental fee is $1000 and must be received by the 10thof every month.
An extra fee of $100 must be paid for every week if the payment is late.
We want you to join our community.
Javier Y.
On-site Manager
Awana Apartments
(111)-111-1111
I have read & understood the agreement & accept the terms voluntarily.
______________________________
Awana Apartments (Landloard)
______________________________
Mr. Johny & Mrs Amy (Tenants)
Date __________________________
That is all about a lease agreement letter. After paying attention to the step by step, tips, and a sample above, you must be able to write such a letter on your own.
Similar Posts: